Lack of paramedics may prompt the EMSA ambulance service to shift some non-life-threatening calls to ambulances manned by emergency medical technicians, rather than both paramedics and EMTs, the Oklahoma City Council heard Tuesday.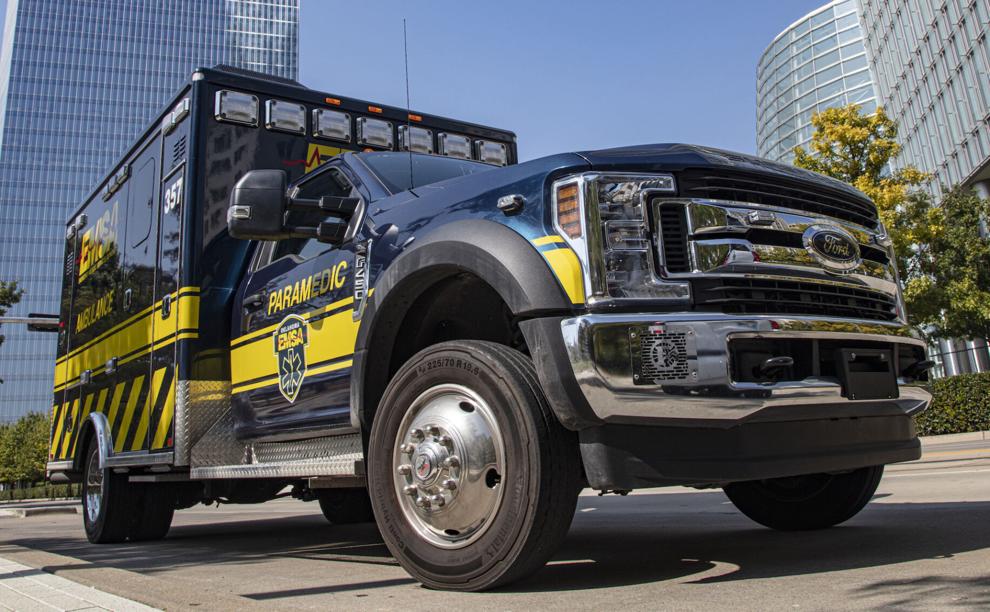 EMSA covers Oklahoma City and Tulsa, but company officials told the council the entire nation is having a paramedic shortage, which created the need for a proposed ordinance to amend the city's agreement with EMSA.
Currently, the agreement requires a paramedic and EMT on all calls. The proposal would allow two EMTs on non-life-threatening calls while paramedics would be used on emergency runs.
EMSA officials explained the shortage of qualified and licensed paramedics is one of the factors impacting the company's ability to consistently meet response time obligations. Another major factor, they said, is that for many months, Oklahoma City hospitals have no beds for the patients EMSA brings them due to the COVID-19 pandemic. As a result, EMSA's paramedics are experiencing four or more hours of wait time at local hospitals as EMSA cannot leave the patient until the hospital is able to assume care, said James Winham, EMSA's president and chief executive officer.
Creating the tiered call system would allow EMTs to respond to more 911 calls, increase EMT patient care experience, increase frequency EMTs are used and may stimulate EMT interest in paramedic training, company officials told the council.
When a request for service is received in the 911 center, available paramedic and EMT units will be dispatched simultaneously, EMSA reported. Once protocols determine which unit is needed, the appropriate ambulance unit will continue to the scene. When an EMT unit is utilized, the paramedic unit will return to service and is then ready to respond to another call.
"This will allow the paramedics to go to the right calls at the right times," Winham said.
In many cases, ambulances respond to minor illnesses, injuries, and blood pressure checks. In 2020, EMSA had 171 calls involving spider bites and 1,091 calls for abnormal blood pressure.
Those calls, Winham said, could be handled by EMTs and free paramedics for life-threatening emergencies. In the spider bite cases, 129 were transported to the hospital and 42 patients refused transportation to the hospital.
Of the 1,091 blood pressure calls, 711 were taken to the hospital but only 1.2% required an emergency transport with lights and sirens, EMSA reported.
Calls will never be downgraded once paramedics arrive on the scene. On the flip side, calls can be upgraded after EMTs arrive and realize paramedics and a higher level of care are needed. EMTs will render care until paramedics arrive, Winham said.
In 2020, more than 22,600 ambulance calls were attributed to approved medical codes that EMTs could handle, which equates to 9.7% of total calls. As a result, EMSA officials believe they would need 5-7 EMT units deployed per day. All EMT calls will receive a clinic analysis to ensure the program is functioning as intended, according to a PowerPoint presentation EMSA officials presented to the council.
EMSA figures showed a 7.7% increase in calls during 2020.
A public hearing on the proposed ordinance will be held Nov. 9. Final consideration of the ordinance is scheduled for Nov. 23.