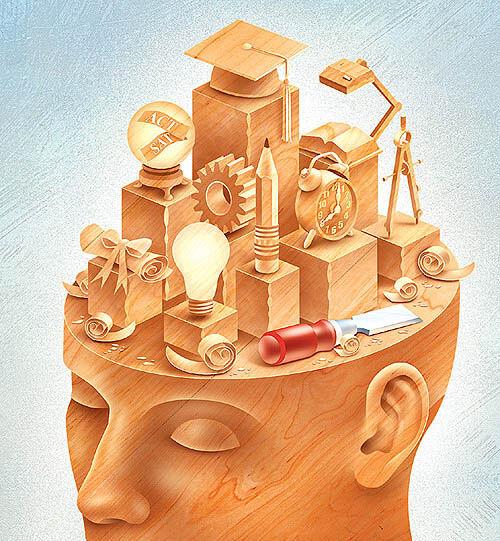 Billie Rodely
Contributing Writer
A state capitol meeting last week was opened by state Rep. Corey Holland stressing the intent of the day was to "Just begin the discussion … not bash the higher education system."
The gathering was the result of an ad hoc committee of lawmakers who have expressed a need for free and open discourse about the often controversial and contentious funding mechanisms for Oklahoma Higher Education. About 20 representatives and a few senators attended the meeting, which was sponsored by the public policy organization Oklahoma Council of Public Affairs (OCPA).
Invitations were sent to the State Regents for Higher Education and officials of all of the state's colleges and universities, but only Langston University President Henry Ponder represented the state's higher education community.
Presentations made launched discussion on ways to trim higher education funding through modernization reforms, challenging conventional wisdom, and getting bureaucracy and turf protection out of education.
Rep. Holland presented on the "Peer Factor Multiplier" area of higher education and suggested he would revive a bill he ran during the last legislative session which would eliminate peer funding and cut appropriations for higher education by almost $192 million.
The Marlow Republican cited State Regents for High Education budget guidelines which state "The budget needs of each institution should be determined on the basis of costs for academic programs approved by the State Regents, adjusted by a peer factor to provide nationally competitive funding." In other words, determine funding for Oklahoma higher education programs by comparing similar programs in other states.
Del City Democratic Rep. Scott Inman challenged Holland. "We've talked a lot over the past several years about comparing ourselves to other states like Texas, saying we need to do what they do. We need to tax our citizens like they do with zero income tax," Inman said.
Holland responded, "I'm a representative of the State of Oklahoma, I don't really care what Texas does."
"Higher Ed Exemptions and Modernization Reforms" was presented to the meeting by Guthrie Republican Rep. Jason Murphey, who discussed the processes needed to save costs through reforms. He noted, "Because of mostly political reasons," higher ed is exempted from most of those processes.
Murphey cited an IBM study in 2006 that suggested state entities work together to combine purchasing power in order to reap "tremendous ongoing savings." Currently, Oklahoma Higher Ed is exempted from such a system, although Oklahoma State University last year opted in to the state purchasing card process.
Another study Murphey presented covered financial services which concluded Oklahoma under-utilizes technology, resulting in inefficiency in accounting and productivity. The 2007 Hackett Group study included two Higher Ed institutions. Murphey said the conclusions of the study, "To me, as a taxpayer, was completely shocking."
Information Technology was the focus of a 2011 study, which concluded that reform in shared IT services would result in significant cost reductions. "In the separated system we have right now, we might have a state agency that purchases fiber from a contractor that goes right down a line where Higher Ed has its OneNet network. And that's insanity," Murphy said.
It should be noted that Rep. Murphy's House Interim Study on Higher Ed exemptions is on the October 11 meeting agenda for the House Committee on Higher Education and Career Tech. Some of the representatives of Higher Ed who did not attend Wednesday's meeting reportedly plan on attending the Oct. 11 hearing. (However, it as noted that the focus on transparency at the Oct. 11 session is narrower than the OCPA session Holland helped organize.)
Jonathan Small, C.P.A., is the Fiscal Policy Director for OCPA. He gave a comprehensive presentation on the mounds of research done and compiled on Oklahoma Higher Education appropriations and outcomes. He pointed out appropriations are slightly higher than 2004, despite the economic downturn and shortfalls.
Small also addressed legislative mandates and requirements covering the Oklahoma Higher Learning Access Program (OHLAP) and Oklahoma's Promise, the teacher retirement System with almost 10,000 Higher Ed retirees, and Oklahoma's ranking in the Big 12 as lowest in terms of tuitions and fees.
He also presented the OCPA's June 2011 Study "Oklahoma Higher Education: Challenging the Conventional Wisdom" which suggests "public fears and outcries over cuts in state appropriations for higher education are unfounded."
Without naming names, Small cited a number of Oklahoma professors who have very small class loads or direct student teaching, but who earn more than $100,000 a year. The issue drew objection from Rep. Inman who found it unfair to highlight a small number of educators who perform research and lend prestige to Oklahoma's higher education system in addition to class work.
Wednesday's afternoon session found Oklahoma State University Riata Professor of Entrepreneurship Dr. Vance Fried addressing a smaller after-lunch group. Dr. Fried's presentation "Reducing College Tuition: The Legislature's Role" was based on his book, Better/Cheaper College.
Dr. Fried claims higher education operates in an "Ivory Tower" culture with a strong bureaucracy.
Among the many of Dr. Fried's (some would say highly radical) suggestions to lower costs and tuitions would be to consolidate all of the boards of Regents into one Oklahoma State Regents for Higher Education body.
He said, "Learning for learning's sake is the core value of the (so-called) Ivory Tower." He contends that "culture" causes colleges to drive up costs and push student benefits down. Dr. Fried says most colleges have extremely high profit margins and he believes those profits should be taken away from what he calls "The Ivory Tower Collective" and given to students in the form of lower tuition costs.
(More information on Dr. Fried's guidebook on Better/Cheaper colleges is available by email: info@bettercheapercollege.com.)
Concluding the day on higher education reform presentations was Oklahoma.Watchdog.org editor Peter J. Rudy. His was a summarization of the recent stories he has written on the spending and budgets of all 25 Oklahoma Colleges and Universities. Those stories can be found posted on his website and are linked on this website at Oklahoma Watchdog.
Rudy said his series of stories was prompted when attending a spring meeting of the University of Oklahoma Regents, during which OU President David Boren addressed the issue of state appropriation cuts saying, "We're doing more with less, and less is running out." Rudy said his research shows OU is doing more with more.
Rep. Holland closed the meeting as he opened it, saying the intent of the gathering was to begin an open and free discussion about Oklahoma higher education. The next step will be up to lawmakers to continue that discussion.
Editor's Note: A member of the Oklahoma Journalism Hall of Fame, Billie Rodely is a frequent contributor to CapitolBeatOK and to The City Sentinel.