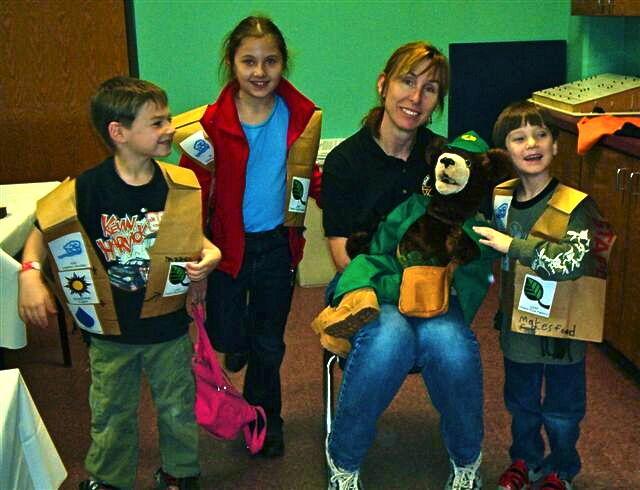 By Darla Shelden
Contributing Writer
The Oklahoma Green Schools Program offers funding and educational resources to help schools go green. Beginning July 19, five free Oklahoma Green Schools Training sessions are available to learn how the Oklahoma Green Schools Program works.
"Our goal is to educate and empower Oklahoma students and teachers to make a difference through environmental awareness and stewardship of resources," said Green Schools Director Christina Roberson, who will be leading this year's training sessions.
"Many educators in Oklahoma have expressed the desire to have a program to support and recognize "green" activities within their schools," said Jeff Wegener, Oklahoma Green Schools Committee Chair. "Available information on the topic can be overwhelming, so this program has been developed to provide a clear, organized source for information."
"A green school is defined as a school building or facility that creates a healthy environment that is conducive to learning while saving energy, resources and money," said Susie Shields Derichsweiler, founding member of the Oklahoma Green Schools Program.
"Public and private schools alike are realizing that going green is a no-brainer. If a green school saved $100,000 per year in operational costs, that's roughly enough to hire two new teachers, buy 200 new computers or purchase 5,000 new textbooks."
In 2008 the Oklahoma Greens Schools program was started by the Oklahoma Chapter of the US Green Building Council (USGBC).
The developers of the program brought their expertise and various interests to one common platform, to give schools a single source for tips, information, and approaches to "greening" their schools. It is the goal of the program to bring coordination, focus and encouragement to the green school movement in Oklahoma.
Roberson said, "We recently received our 501C3 status and on our committee we have state agencies, non-profits, like Oklahoma Beautiful, and utilities like OGE and PSO sitting at the table with us."
Ten school districts participated in the pilot phase of the program, which was launched during the 2009/2010 school years. 
Oklahoma Green Schools is service and project based learning. "We have students brainstorm what's going on in their school regarding energy, water, waste & recycling, environmental quality and school site, which includes gardening, composting, storm water run off, everything going on outside," said Roberson. "We want students to take the lead in evaluating and improving the environment of their school,"
According to Roberson, after the students finish brainstorming; they pick one of the five areas that they'd like to investigate further. Curriculum materials are downloadable through their partner organization, the National Project Learning Tree. 
The curriculum is a series of questions and data collection that the students can actually do themselves," said Roberson. "And from the data they collect, they come up with an action plan. This is all service learning, and it's all student led. It's what we call project-based learning."
Most of the projects the kids initiate are what Roberson call 'low hanging fruit. If the projects are implemented, they will result in cost savings for the school says Roberson.  The students are then asked to put their findings in a report, which is presented to one or more decision makers.
"It could be the principal, the superintendent, the PTA, the school board, the maintenance crew, whoever it is that can become their partner in getting this project implemented," said Roberson. "We have 50 to 60 schools each year that are doing some part of the program and it's designed to be that way. The program can be whatever each school needs it to be. And whatever their findings, they develop the action plan that makes sense for their school."
After the program training is completed, schools are presented with the Green School flag.  "It flies to tell the community, the district, the parents, and the students that we have made a commitment to greening our school," said Roberson.
For 2012 session one will be held on Thursday July 19, at Southwestern Oklahoma State University (SWOSU), 100 Campus Drive, in Weatherford from 4 p.m.- 6 p.m. All other training sessions will be held from 9 a.m.- 11 a.m.
On Tuesday July 24, session two will be held at Metro Career Academy, 201 N.E. 48th, in Oklahoma City.  An optional facility tour is available.
Tuesday, July 31, East Central University (ECU) in Ada, will host session three at thePhysical and Environmental Sciences (PES) Building, Room 262.
Session four, Thursday, Aug. 2 will be held at the Washington County Extension Office, 205 E 12th Street, in Dewey, OK.
The final session, on August 9 will be held at Skyline Elementary School, 1402 E. Sunrise Avenue in Stillwater, with an optional facility tour available.
"Come out and see what Oklahoma Green Schools is all about," said Roberson. "You'll find out how to get your students excited about coming to school and becoming an advocate for their own education. They can create a greener and healthier learning environment that benefits everybody that's in that building."
For more information visit www.okgreenschools.org.