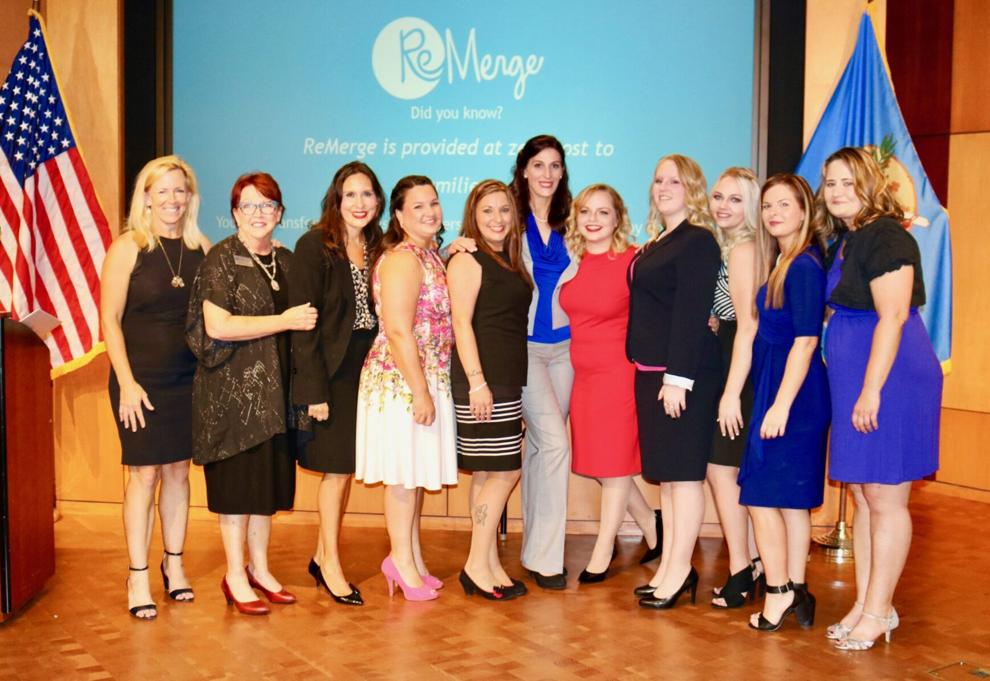 By Darla Shelden
City Sentinel Reporter
OKLAHOMA CITY, OK – Once facing prison time, eight women recently graduated from Oklahoma's successful ReMerge program.  The graduation ceremony was held at the Oklahoma History Center.
Founded by former Oklahoma legislators Kris Steele and Todd Lamb, ReMerge is a comprehensive female diversion program designed to transform pregnant women and mothers facing incarceration into productive citizens while improving the lives of their children and strengthening their families.
"ReMerge is so proud of this graduating class," said Terry Woodland, ReMerge executive director. "Eight moms with 17 children have broken the cycle of addiction, incarceration and poverty for themselves and their children. These moms are tax paying citizens, contributing and giving back to their families and their communities.
"Including today's class, 114 women will have graduated the program, impacting the lives of 288 minor children, saving the state of Oklahoma more than $14 million dollars, and breaking the cycle of incarceration for these families," Woodland said. "Our recidivism rate is 5 percent, and 7 out of 10 women successfully complete the program.
"These eight graduates once faced a combined minimum of 29 years of incarceration as well as the possibility of two life sentences," Woodland added. "This could have cost the state of Oklahoma half a million dollars at a minimum. By providing an alternative to prison, ReMerge kept these families together in the community while saving the taxpayers money."
ReMerge receives the full support of the Oklahoma County District Attorney's office.
Assistant district attorney Heather Coyle, now a candidate for Oklahoma County District Court, has worked with alternatives to incarceration for over ten years through the Specialty Court Diversion Programs.
Coyle currently oversees ReMerge, the Drug/DUI Court Program, the Mental Health Court; HERS program, and the Northcare Day Reporting Program.
"The ReMerge program is life changing, not only for the participant, but for the children that are reunited with their mothers," Coyle said. "This program saves lives.
"For many women, this is the first time they have ever had someone believe in them and been provided resources to help them address their addiction, mental health issues and trauma," Coyle added. "Seeing the smiles on the little faces at graduation is invaluable.  Seeing children reunited into healthy homes with their mothers is priceless."
Entering the program are mothers who face nonviolent charges, which are often a result of growing up in families with unmet mental health and substance abuse needs.
Understanding the special needs of these women, the program is designed to remove some of the barriers they face to improve their chances of long term recovery and success.
ReMerge is a public/private partnership that also works closely with the Public Defender's offices, Oklahoma Department of Corrections, Oklahoma Department of Mental Health and Substance Abuse Services, and other community 
nonprofits to assist women who are facing nonviolent felony convictions.
During the event, Sharee, one of the eight ReMerge graduates said, "Today I stand before you, whole, grateful, joyous and free. And although it's a lifelong disease, I will continue to fight using all of the tools I've learned on my journey. I am a wonderful mother to my 1 year old child and because of the chance I have been gifted with, she will never have to know what it feels like when mommy doesn't fight for you. Thank you for my chance, for my daughter, for my life."
Participants may enter the program at any time, which is divided into four phases.  Each phase lasts a minimum of 90 days depending upon the needs and progress of the individual client.
An individualized treatment plan is developed for each participant to address their family, education and employment needs.
Jaimee, another recent ReMerge graduate stated, "I am so thankful for the foundation I have been provided and the coping skills I have learned so that I can be a better parent to my children and continue to achieve the goals I have set for myself."
Program funders include The Inasmuch Foundation, David and Mary Anderson Family Foundation, Anne and Henry Zarrow Foundation, Anschutz Foundation, George Kaiser Family Foundation, Tricia Everest, Meinders and over 100 individual private donors.
"When I came into the program, I had a credit score of 430. I am excited that today, I am in the 640's and it's only improving- just like me," said Summer, one of the eight ReMerge graduates. "I have a valid drivers license, with legal registration and insurance. I have full custody of both of my children, I have a job that on most days I really love, but every day I like. ReMerge gave me the strength and tools I needed to walk away from an unhealthy, toxic relationship."
Nonprofits that provide space and in-kind services for ReMerge include United Way of Central Oklahoma, NorthCare, and the Salvation Army.
"Alternative to incarceration programs like ReMerge cost a fraction of what it would cost to incarcerate these women," said keynote speaker Adam Luck, CEO of City Care. "It is a one-time intervention instead of years sitting in a cell.
"Let us not forget the costs and benefits we cannot calculate," Luck continued. "What is the value of a child being raised by their mother? Can we agree on the value of ending, for one person, the cycle of incarceration, or addiction, abuse, or poverty? Can we agree on the value of ending several of those cycles at once?
"This brings us to the challenge that lies before us. I present this to myself as much as I do anyone in this room," Luck said. "My community, it is this: We either leverage every resource, talent, and influence we have towards ending these cycles of incarceration, marginalization, poverty, addiction, and oppression – or – we participate in perpetuating them. My community, there simply is no middle ground."
For more information, visit remergeok.org.