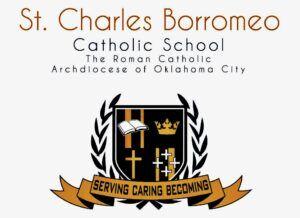 Staff Report
St. Charles Borromoreo Catholic School has scheduled its popular annual auction for Saturday evening, April 14. The event aims to raise money for a variety of improvements to the school facility, continuing a series of annual changes. Planners envision floor work, chair replacements, and a methodical switch to LED light fixtures at the facility.
This year's theme highlights a "Family Lake Bash." It will include hors do'oeuvres, wine & beerz, and silent & dessert auctions along with entertainment.
Kristin Morris, auction chair for the school, told The City Sentinel, "No one wants to miss an amazing night underneath the moonlight sky, gazing over calm waters, as the fire crackles at the jokes and banter of children and their families sitting outside the lake cabin. SCBCS Lake Bash will prove to be a relaxing night to gather in what many of our parents will cherish memories and share stories of years past for the Eighth grade graduating students."
A variety of sponsorship levels (bronze, silver, gold, and platinum), ranging from $50 to $250, are available to community members who want to help the institution continue the parish educational mission.
In light of this year's theme, welcome donations include canopies, Adirondack/Fishing/Lake Lounging chairs, fire pits and boating/fishing vacation trips, indoor/outdoor bug zappers, portable solar-powered tent lights, camping tiems and "lake necessities."
Also sought are electronics use of a vacation home or time share, golf packages, gift baskets, art and homemade/craft items, gift cards and gift certificates. Individual reservations/tickets are available for a $35 each.
Morris continued, saying that over recent years, school supporters and patrons "have funded many projects benefiting both our school & parish. … We are hoping our patrons roll out to support the future of our children and continue to unite under our crest and uphold our mission."
St. Charles is a non-public school located at N.W. 50 Street and Grove in Warr Acres (near-northwest Oklahoma City). The school is open to all faiths, ethnic backgrounds and socioeconomic situations. The school does not receive financial support from the state or taxes. It must pay for upgrades to classrooms, books, computers and playgrounds through annual tuition and fundraising.
Information is available at the parish website – Click on the "School" link or call the parish office at 405-789-0224. St. Charles is a tax exempt organization. Those wishing to contribute or donate items may contact Kristen Morris at 405-834-7646, or via email at ptc.auction@scbokc.org to arrange for pick-up of donated items.
Donations can be mailed or shipped to the school: St. Charles Borromeo Catholic School, c/o Kristen Morris/Auction Chair, 5000 N. Grove, Oklahoma City, 73122