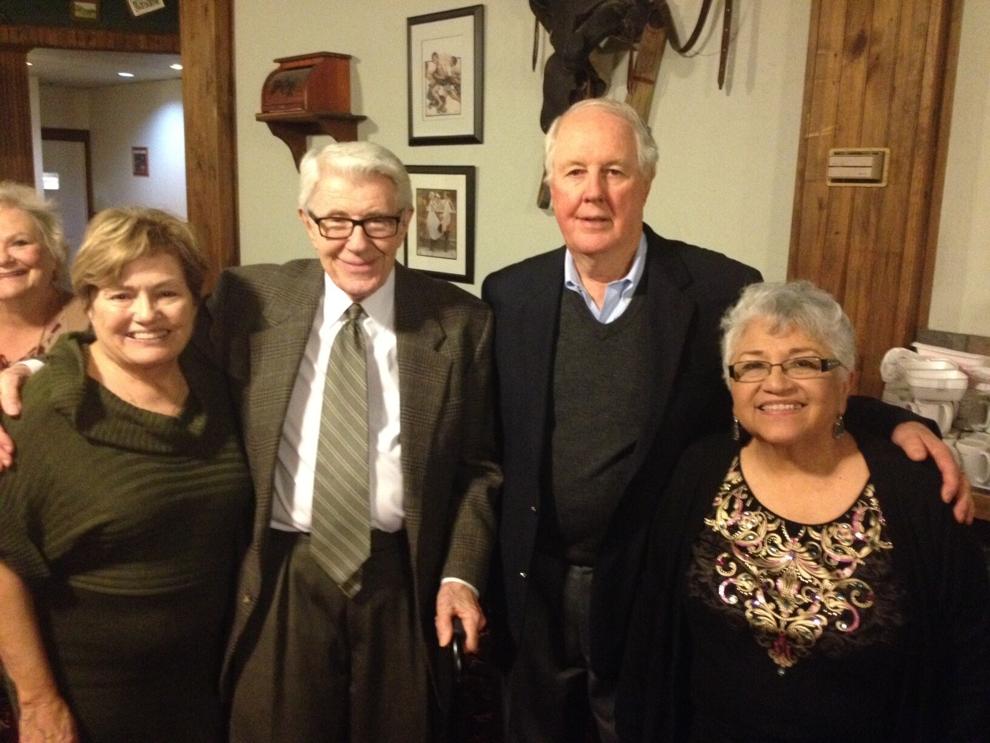 Patrick B. McGuigan
OKLAHOMA CITY – After 45 years of dedicated service to unborn children and mothers, Ruth Blakley has retied from daily work at Birth Choice of Oklahoma. Her service to affirm life was honored recently at a dinner celebration held in the Stockyards City Cattlemen's Event Center.
Friends, co-workers and family members gathered for a relaxed time to share memories and appreciation for Blakley's work.
To begin the evening's simple program, Father Oby Zunmas offered an opening prayer of appreciation for Ruth and Birth Choice Executive Director Barbara Chiskho. Rev. Zunmas recalled how he met Ruth and Barbara many years ago at a conference. The friendship formed then has grown continuously. He blessed the food and the attendees, than sat with members of the Blakley family for the evening. Robert Dolan, a member of the Birth Choice board of directors, spoke briefly, as did Chishko.
On behalf of the board and Birth Choice supporters, Dolan presented Blakley a retirement bonus and a beautiful necklace.
The honoree encouraged all present to remember the central mission for Birth Choice since the 1970s: "We are here for every baby, every child, every mother, to offer ways to bring that child into the world safe and sound."
Ruth has been a member of St. James Catholic Church for decades. As a girl, she attended Sacred Heart School and Mount St. Mary High. Married to husband Lonnie (who died in 2015) for 50 years, she is the mother of three adult sons, eight grandchildren and one great-grandaughter.
For many years active in parish Altar Society, she ran the Religious Education program on a Interim basis, bringing the program availability to Wednesday nights to better serve the diverse parish community. While engaged in her decades of parish work, she earned a diploma in Pastoral Ministry.
Ruth's biography, provided by Birth Choice, affirms the organization "gives women the means, opportunity and information they need to choose life for themselves and their babies. From a small donated office space [in the early decades] to the present marvelous building housing the south office Birth Choice occupies today, she has been a part and a witness to one miracle after another."
Ruth worked the opening day of Birth Choice of Oklahoma, after the organization was formally established on March 5, 1973. She has been a financial officer and director at Birth Choice, organizing Celebration of Life festivals and the annual Life Walk in October. Ruth has helped organize the annual "Life of the Party" gala, raising private donations to support the work.
Birth Choice leaders commented on Blakley's life and work, saying, "She is an excellent role model for all. She practices what she preaches. She puts her faith into action each and every day, as she quietly goes about God's work, wherever it might be."
Directors of Birth Choice, in addition to Dolan, Blakley and Chishko, include Kim Davis, a building contractor & property management leader; business owner Elaina Tedrow; John Welker, MBA; Katie Gordy, MHR, chairman of the Birth Choice board;  business owner Leitner Greiner; Curtis E. Harris, MS, MD, MD, chief of endocrinology; Mary Jane Calvey, PhD, MPH, MBA, owner Real World Management Solutions; Cheryl Gumerson, MTS; Philip Martinez, DC, Doctor of Chiropratic; Julie Murray, secretary of the Board; Michael Minnis, attorney;  Al Warren, financial planner; Kathryn M. Steffen, dental office administration; and this reporter.
Years ago, Chishko told Ann DeFrange, a reporter for The Oklahoman, that the group's objective has always been "to save one baby's life." They do that — one baby at a time, and one mother at a time.
Ruth often says abortion is not a political issue, it is "a life issue." (http://newsok.com/article/1947306)
Birth Choice also provides guidance to find Community Services, including Food and Nutritional Guidance, Employment Services, Department of Human Services, Adoption Agencies, Natural Family Planning, Post-Abortion Counseling and Moms Support Group.
Birth Choice provides resources, counsel, medical care and other support needed to give the group name meaning. Blakley helped fashion a group that "exists to encourage any pregnant woman to choose the gift of life for herself and her unborn baby by providing the means to do so."
NOTE: McGuigan, a member of the Birth Choice of Oklahoma Board of Directors, was a co-founder of BirthRight of Stillwater in 1974.