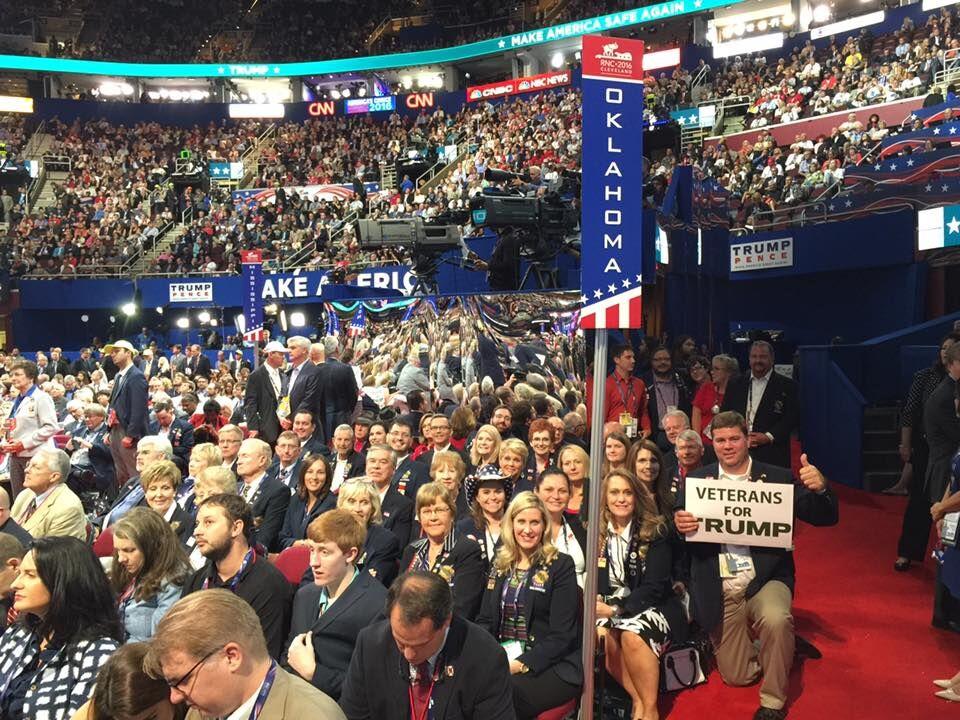 by Patrick B. McGuigan, editor
Oklahomans, including many from Oklahoma City, participated in the 2016 Republican Naitonal Convention in Cleveland, Ohio. Governor Mary Fallin chaired the platform committee and twice spoke to the assembled convention.
Trump rolled to a comfortable victory in the nationwide delegate count, but finished second in Oklahoma. He lost to U.S. Sen. Ted Cruz, R-Texas, but edged out U.S. Sen. Marco Rubio, R-Florida, in the primary held March 1.
Charles W. Potts, a GOP leader in the city area, regularly updated friends via email and with posts on Facebook. He said his first choice in the 2016 campaign was Wisconsin Gov. Scott Walker, and that Walker's support of Trump was important to him.
Of one of the most interesting moments of the convention, when Cruz declined to explicitly endorse Trump, Potts said, "The volume of the booing when Ted Cruz finished his speech was over the top. Cruz's broad support in the GOP is severely diminished, in my opinion."
As for the party's nominee, Potts reflected, "His speech … was very well received and all of our delegates that I spoke to were very impressed. Needless to say, he cannot, alone, do all the things he said he'd do; he can sure work with Congress to get many of them done. At least we have an idea about his priorities."
And, he said, the selection of running-mate Mike Pence (governor Indiana) was "definitely the best choice" of those interviewed for the number two job.
Reinforcing his decision to support the nominee, he commented, "We need to keep reminding ourselves, and others, that this election is so important when it comes to the next 3 Supreme Court nominees. Hillary's appointments could further cripple our country for the next 25 years or more."
Potts disagreed with news reports and the reflections of some delegates from other states that the opening session of the convention was chaotic. He characterized the opening day as having "an issue of controversy, but not chaos." He said Melania Trump's speech "gave many of us a lot more confidence in Trump, as did Rudy Giuliani's."
In his dispatches, Potts said the cumulative effect of the speeches by members of Trump's family were extremely positive for delegates.
Potts said he might never have visited Cleveland if he was not active in GOP politics: "[I]t was not even on my list of places I'd want to go. Boy, was I wrong! This is a great place and the people we have had contact with were so helpful and friendly."