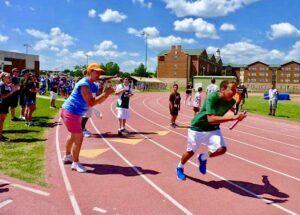 By Darla Shelden
City Sentinel Reporter
OKLAHOMA CITY, OK -The campus of Oklahoma State University will welcome more than 5,000 Special Olympics Oklahoma athletes May 16-18 during the 49th annual Special Olympics Summer Games.  Oklahoma staff and thousands of volunteers are preparing for three full days of competitions, Olympic-style ceremonies, Olympic Village, food, housing and more.
On Wednesday morning, May 16, athletes will start arriving in Stillwater from the 14 geographic areas of Oklahoma where they have completed competitions in their local areas. 

Opening Ceremonies, themed "Superheroes: There's A Hero in All of Us," are scheduled for Wednesday evening, at Gallagher-Iba Arena.
The arena will open at 6:30 p.m. for teams and spectators. The ceremony will begin at 7:30 p.m. with the traditional Parade of Athletes.
Members of the Law Enforcement Torch Run will rappel into Gallagher-Iba Arena and carry the Flame of Hope while they escort the Parade.

This is the 35th year Summer Games have been hosted by Oklahoma State University and the City of Stillwater.
During the three-day event, athletes will compete in the following sports: athletics (track and field), bocce, bowling, golf, horseshoes, powerlifting, Unified® 3-on-3 basketball, and Unified® softball. 

Other events include Young AthletesTM, Healthy Athletes®, Motor Activities Training Program and Olympic Village.
Summer Games provides all of the pageantry of the International Olympic Games, including Opening and Closing Ceremonies, medal presentations, Olympic Village, Torch Run and social activities.
Thousands of volunteers will manage the Games under the leadership of Jim Scott, Summer Games Chairman. 

The 2018 Special Olympics Athlete of the Year recipient will be announced during Opening Ceremonies sponsored by Cox Communications.
The Torch Run is a year-round fundraising campaign, as well as an annual series of relay runs across the state to increase awareness for Special Olympics. More than 156 Law Enforcement agencies all over Oklahoma support Special Olympics Oklahoma.
Many agencies will carry the torch on a statewide run that culminates in the lighting of the Special Olympics Flame of Hope at the Opening Ceremonies of the Summer Games. The Torch Run is Special Olympics' largest annual fundraising sponsor.
On Wednesday and Thursday from 8 a.m. to 5 p.m., athletes are offered free eye exams at Lions Clubs International Opening Eyes® and dental screenings from Healthy Smiles®, located in Olympic Village.
On Thursday from 8 a.m. to 5 p.m. athletes are offered free hearing screenings at Healthy Hearing, located at Wes Watkins. 

Other benefits available from Healthy Athletes include free eyeglasses made while the athletes are at Summer Games. The 2018 Healthy Athletes program is presented by United Healthcare.
Also on Thursday, May 18 from 10 a.m. to noon, the Young Athletes program will give athletes ages 3 through 7 the opportunity to experience what it is like to participate in Special Olympics events. At Summer Games, these children will go through about a dozen stations, receiving training in track & field events. 

The Young Athletes area will be located on the Turf Field north of Hall of Fame, across from Boone Pickens Stadium.
Closing Ceremonies will begin at approximately 7 p.m. on Thursday, May 17 at the Stillwater High School Stadium, 1224 N. Husband Street, just off of Boomer Road. 

Festivities include recognition of the 2018 Award winners and the extinguishing of the Special Olympics flame. Immediately following the conclusion of Closing Ceremonies, the Summer Games Dance will begin.
Venue sponsors include: McDonald's of Oklahoma, Cox Communications, Drumright Dental Center and Delta Dental of Oklahoma Oral Health Foundation, Tulsa Fraternal Order of Police Lodge #93, and United Healthcare.
OSU's Olympic Village will be located on Hall of Fame Avenue, between Washington and Gallagher-Iba Arena, with booths and entertainment for the athletes, coaches, volunteers and families who attend Summer Games.
Oklahoma's first Special Olympics event was an athletics competition at the University of Tulsa in 1969.
Special Olympics Oklahoma benefits 11,600 athletes and is supported each year by over 1,700 volunteer coaches and thousands of sponsors, donors and volunteers conducting more than 140 sports competitions and training clinics.
For more information, call 9184811234 or visit SOOK.org