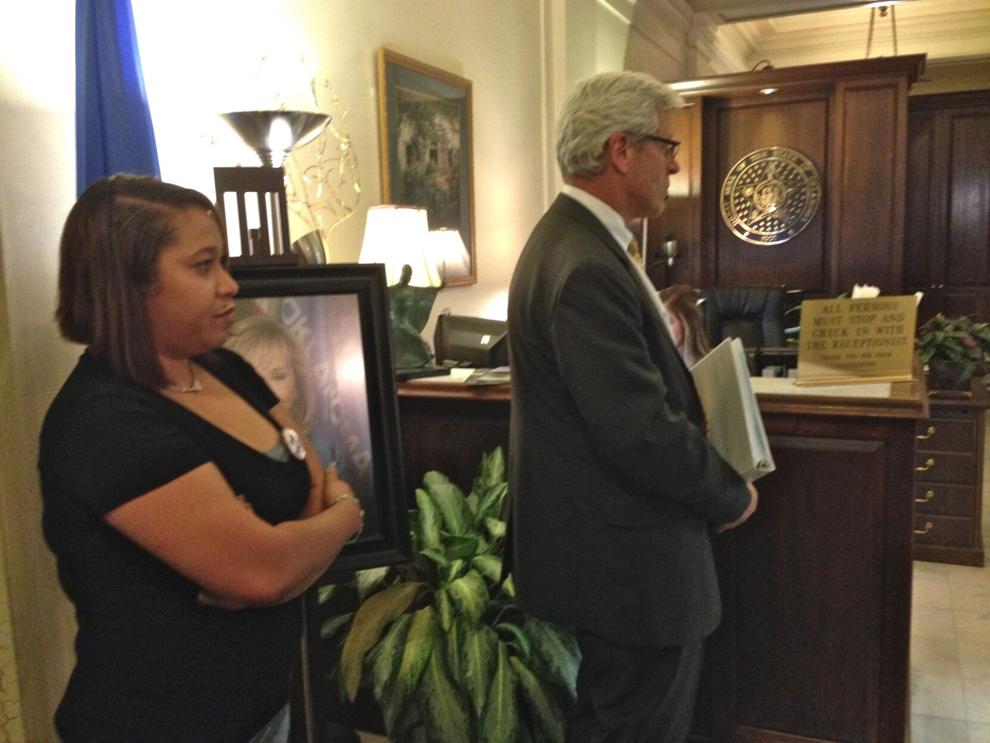 Staff Report
NOTE to readers: Here is the text of the letter submitted on Monday (September 14) to Oklahoma Governor Mary Fallin by attorneys for Richard E. Glossip. Enclosures referenced that are not included in this posting, along with a video of the Sept. 14, 2015 press conference at the Oklahoma State Capitol,  may be viewed at the website of the Oklahoma Coalition to Abolish the Death Penalty (OK-CADP), here: www.okcadp.org.
September 14, 2015
Dear Governor Mary Fallin:
On behalf of Mr. Richard Glossip who is scheduled to be executed September 16, 2015, we respectfully request that you invoke your Constitutional authority to grant a sixty (60) day reprieve.  Article 6, § 10 of the Constitution of Oklahoma.  Our recent, initial, re-investigation of Mr. Glossip's case has uncovered compelling new evidence of innocence which we believe is more than sufficient to warrant caution on a matter of such grave consequence.  With the additional time, we would continue this investigation and request to present the case anew to the Pardon and Parole Board.
The new evidence includes:
1.    Expert opinions that the circumstances of this case pose a substantial risk of the execution of an innocent person.  For example, Justin Sneed – the key witness against Mr. Glossip – was interrogated in a way that has been scientifically shown to produce false and unreliable information and, when exposed, exonerations.
2.    Justin Sneed has bragged that, in order to escape the death penalty, he lied about Mr. Glossip's involvement in the case and that Mr. Glossip was not involved.  He also has stated he wishes to recant but fears getting the death penalty himself.
3.    Justin Sneed, contrary to the meek youngster he was portrayed to be at trial, was a severe, thieving, methamphetamine addict.  He stole guns and other personal belongings out of cars in the parking lot of the motel where the crime occurred – and out of occupied motel rooms – and traded what he stole for methamphetamine.  He was desperate for the drug.  This was the modus operandi in this murder case – taking from rooms and cars at the motel to obtain drugs – but something went tragically wrong.
We will take these three matters up in turn.  Then we will explain the additional investigation that is necessary and what a 60-day reprieve would allow.
___________________________________________
In the early morning hours of January 7, 1997, Justin Sneed, by himself, beat Barry Van Treese to death with a baseball bat in Room 102 of the Best Budget Inn, a motel in Oklahoma City owned by Mr. Van Treese.  Upon arrest, he first denied any involvement in or knowledge of the murder.  Over the course of a long interrogation by detectives, Sneed was pressured to implicate Richard Glossip, the manager of the motel, and was fed details which, if he adopted them, would help him. Sneed finally adopted the detectives' story and agreed; in exchange for a life sentence for the murder he alone committed, to testify that Mr. Glossip was the mastermind of the plot to murder Mr. Van Treese to steal money from his car. Based upon Sneed's testimony, Mr. Glossip is scheduled to be executed Wednesday, September 16, at 3:00 p.m.
As the prosecutors conceded in argument at trial: "the physical evidence doesn't directly implicate Mr. Glossip."  The scheduled execution is because of Sneed's testimony and credibility alone.
1.    The use of interrogation techniques proven to elicit false statements
Richard A. Leo, Ph.D., J.D., is the national, leading expert on police-induced false confessions and erroneous convictions.  His just released report is attached to this request.  Dr. Leo evaluated the circumstances of Mr. Sneed's interrogations and concluded, based upon decades of social science research, that law enforcement in this case used the "personal and situational factors associated with, and believed to cause, false confessions." See Dr. Richard Leo report, attached.  For example:
"The suggestion that Richard Glossip was involved in the homicide of Barry Van Treese first came from investigators, not Justin Sneed.  The investigators feed Justin Sneed their theory that Richard Glossip was the mastermind of this homicide, and they repeatedly tell him that Richard Glossip was putting the crime on him;"
Interrogators "repeatedly tell him that he will be the scapegoat for the crime if he does not confess, implying that he will receive the harshest punishment if he does not confess to it; they repeatedly suggest that Richard Glossip is the one who put him up to it; and they tell him that he can get this straightened out;"
Interrogators "presumed the guilt of Richard Glossip from almost the start and sought to pressure and persuade Justin Sneed to implicate Richard Glossip"
"The investigators repeatedly lied to Justin Sneed by telling him that multiple people or witnesses had implicated him in the murder"
Dr. Leo's report explains the science behind why techniques such as these create "the suspect's perception that he is trapped, there is no way out, and that his conviction will be inevitable, thus leading to the perception that he has little choice but to agree to or negotiate the best available outcome or mitigation of punishment given the subjective reality of his situation."  Such tactics "are substantially likely to increase the risk of eliciting false statements, admissions, and or confessions."
Finally, Dr. Leo notes Sneed's "multiple, inconsistent, and contradictory accounts of the crime" which is consistent with a guilty person "falsely implicating an innocent third part as an accomplice."
2.    Sneed set Mr. Glossip up and Mr. Glossip did not do anything
Mr. Knight, one of Mr. Glossip's recent volunteer attorneys, appeared on a national television show recently about Mr. Glossip's case.  We have asked people to come forward who know anything, and this television appearance prompted the following:
AFFIDAVIT OF MICHAEL G. SCOTT
4.  For about a year, starting in 2006, I was incarcerated at the Joseph Harp Correctional Facility.
5.  While at Joseph Harp, my cell was across from Justin Sneed's cell….
7.  While I was housed near Mr. Sneed, and on more than one occasion, I heard Justin Sneed talk about the murder case that he was in prison for, and about Richard Glossip. I clearly heard Justin Sneed say that, in his statements and testimony, he set Richard Glossip up, and that Richard Glossip didn't do anything.
8.  Among all the inmates, it was common knowledge that Justin Sneed lied and sold Richard Glossip up the river.
9.  As a specific example, within the first month or two of my arrival at Joseph Harp, I learned that Justin Sneed had snitched on a guy who didn't do anything.  I specifically remember Justin on the top run with a group of other inmates, fixing some food, and laughing with them about setting Richard Glossip up for a crime Richard didn't do.  It was almost like Justin was bragging about what he had done to this other guy–to Richard Glossip. Justin was happy and proud of himself for selling Richard Glossip out.
10.  I know Justin made stuff up to try to save his own life, and to get a better deal: a life sentence on a soft yard.  I heard Justin talking about the deal he made, and what he did to Richard.
11.  When I heard Sneed say these things, I did not tell anyone.  Honestly, there seemed to be many other things that I saw or heard that were much worse.  However, when I saw the Dr. Phil show about Justin Sneed and about Mr. Glossip being executed, I knew I had to say something, because I realized just how important this information was.  So I called Don Knight's office, since I saw him on Dr. Phil.
This affidavit is submitted with this letter.
3.    Sneed habitually broke into cars and motel rooms–stealing guns–to support his addiction to methamphetamine; this crime is his modus operandi
a.    Sneed's drug dealer
The state portrayed Sneed as a hapless dupe who had taken methamphetamine, but "he didn't use it that often."  The state asked: "Why would he need that much money?" And the state suggested that Sneed's only possible motive for admittedly killing Mr. Treese was to do Mr. Glossip's bidding.
According to one of Sneed's drug dealers at the time, Sneed habitually broke into peoples' cars and motel rooms to take property to support his severe drug addiction:
AFFIDAVIT OF RICHARD ALLAN BARRETT
1.  I met Bobby Glossip [Richard's brother] who I knew as "Critter" in late 1995 or early 1996 at the Plaza Motel in Oklahoma City.
2.  At that time, I began dealing methamphetamine with Bobby Glossip and continued to do so until the end of 1996.  During this period of time, we dealt drugs out of many different motels in the Oklahoma City area.
3.  In or around September of 1996, I first started meeting Bobby Glossip at the Best Budget Inn on Council Road and 1-40.  I met regularly with Bobby Glossip at the Best Budget Inn for the purposes of selling methamphetamine until the end of 1996.
4.  I always met with Bobby Glossip in Room 102.  Room 102 had a waterbed.  I met with Bobby Glossip in Room 102 at the Best Budget Inn at least 3 times a week.
5.  One of the first few times I was at the Best Budget Inn there was a young man in Room l02 getting high with Bobby Glossip. He was using methamphetamine with a needle. Bobbie Glossip always made people shoot up with a needle before he would sell to them; to be sure they were not the police.  When he left, I asked Bobby Glossip who the guy was.  Bobby Glossip told me the kid was the motel maintenance man.  Bobby Glossip told me to always keep my car locked when I was at the motel.  Later I learned this was because the maintenance man (Justin Sneed) broke into cars at the motel parking lot and stole items from the cars.
6.  During this approximately four month period of time I would go to the Best Budget Inn to sell methamphetamine approximately 3 to 4 times a week. Each time I went to the Best Budget Inn, the guy I knew as the maintenance man would come to Room 102 within 30 minutes of me arriving to buy drugs from Bobby Glossip, who was buying drugs from me.
7.  Each time the maintenance man would come to Room l02, he would use cash (mostly coins) or items to trade for methamphetamine. I specifically recall Justin Sneed bringing the following items to trade for drugs: food stamps (trade $150.00 in stamps for $100.00 of drugs), radar detectors, car stereos, a Samsonite silver hard-covered briefcase and, on one occasion, a nickel-plated .38 caliber handgun. I was present when Justin Sneed told Bobby Glossip that he had taken these items from occupied rooms at the motel and cars in the parking lots of the motel and other businesses near the motel.  I remember that Bobby Glossip traded "a 16" (16th of an ounce) with Justin Sneed for the handgun.  This would have been enough of the drug for Sneed to shoot up 6 or 7 times (and would typically last for a day and a half or so).  People who use meth with a needle chase the "rush" instead of just the high and so they typically use more of the drug than those who snort it, as I used to do.  However, either way, the effects of the drug would last for days. On more than one occasion I observed Justin Sneed shoot up with a needle. Based on my own experience, I believe Justin Sneed was addicted to methamphetamine in a bad way.  Methamphetamine is a very addictive drug. I often saw Justin Sneed "tweaking." This means a twitching of his mouth and a chewing of his lips. This is a sure sign that someone is high on methamphetamine.
8.  In my experience, 90 % of the people I knew who were addicted to meth were thieves; stealing to support their habit.  People with this addiction stay awake for days or weeks and will do anything to get more of the drug, even kill. People get very paranoid and mean when they are high on methamphetamine, and will shoot someone, or beat someone, even to death, to keep them from telling others of illegal things the user may be doing, or just from having paranoid thoughts that someone might turn them in.
9.  I saw nothing to make me think that Justin Sneed was controlled by Richard Glossip.  I never saw anything to make me think that Richard Glossip knew anything about Justin Sneed stealing from motel rooms or cars in the motel parking lots or the businesses nearby. I did not see anything to make me think that Richard Glossip was addicted to drugs.
10.  I met Richard Glossip when he would come to Room 102 to see Bobby Glossip. Richard Glossip came to the room but never would stay very long. He mostly came to tell us to quiet down. I did not see Richard Glossip socialize with Bobby Glossip. In fact, Bobby Glossip was mean to Richard Glossip and told him to stay out of his business. As far as I know, Richard Glossip was a good hearted guy who was not involved in Bobby Glossip's drug business.  I never saw Richard in the room when people were shooting meth and I never saw Richard come to the room when Justin Sneed was there.
11.  When I was in the Oklahoma County Jail, I got a letter from a lawyer named Wayne saying he wanted to talk to me about Richard Glossip's case.  I didn't know what the case was about, but I heard through rumors at the jail that it was a murder at the Best Budget Inn in Room 102, and they had my fingerprints. This freaked me out, and I started trying to get transferred to federal custody.  I entered a plea in my federal case to get transferred so as to get away from this situation. After this, no one contacted me again and it was my intention not to talk to anyone about this situation. When I was first called by my cousin on September 8, 2015 to tell me someone wanted to talk to me about the case, I hung up on her, as I did not want to talk to anyone about this case. I only agreed to talk to Richard Glossip's lawyer because my mother called me back and asked me to.
12.  I was not at the Best Budget Inn on January 7, 1997.
13.  I provided this affidavit freely. No one threatened me, coerced me, or offered anything to me in exchange for this affidavit.  I swear and affirm that the foregoing statement is true and correct.  I am aware that by providing this affidavit, I may have to testify.
Thus, Sneed–a tweaking drug addict who routinely broke into cars (like Mr. Van Treese's) and into occupied motel rooms (like Mr. Van Treese's) to steal people's property to sustain his drug habit–eventually provided the only evidence against Mr. Glossip.
b.    Meth addicts like Sneed are prone to crimes like this; and he was medically treated like an addict, or a psychotic person, once he was arrested.
Dr. Pablo Stewart is an expert in psychiatric patients with substance abuse histories.  He has reviewed Justin Sneed's medical and substance abuse history at the time of his crime and incarceration.  In his opinion, the crime committed by Sneed was consistent with a meth addict acting alone.  He also believes jail medical staff treated Sneed for his meth addiction, but he would need additional records to verify this.  Dr. Stewart's report is attached.
1.    Sneed's actions are consistent with a meth addict acting erratically and violently
According to Dr. Stewart:
Methamphetamine has changed significantly over the past 15-20 years due to the efforts of the federal government to restrict the availability of the precursor chemicals required to manufacture the drug.  In the late 1990's, the time frame involved in this affidavit, the drug was much more potent than it is today.
Methamphetamine, especially when used intravenously over an extended period of time of weeks or months, will result in psychotic symptoms in the user.  These effects are consistent with the symptoms suffered by someone in a psychotic state, and are much more likely to occur in someone who uses the drug intravenously, as opposed to taking the drug by other means, such as snorting it.  These symptoms include, but are not limited to: auditory and visual hallucinations, paranoid delusions (fear, that is not based in any fact, that some other person is going to cause the user extreme harm that could include being killed), delusional thinking, and "ideas of reference" (an unfounded feeling that unrelated actions or movements have direct implications to the user.  For example, a person addicted to methamphetamine might interpret a turn signal on a car as a sign that they are being watched by government agents).
Methamphetamine intoxication lasts for approximately 8-12 hours after injection.  This period of intoxication is when the "high" is most prevalent and the drug can be detected in the user's system.  However, once the drug actually leaves the user's system, the psychotic symptoms described above remain for weeks or even months after use, even when the user is no longer intoxicated.
During periods of intoxication, the user suffers from extreme agitation, rapid cycling of thoughts, and significantly impaired executive functioning.  Use of the drug further erodes the user's ability to accurately assess the situation he is in.  Long-term users lose a great deal of weight as they lose the desire to eat or sleep for days or even weeks.  Noticeable personality changes become greater with use of the drug lasting more than just a few weeks.
Intravenous drug users of methamphetamine are prone to frenzied actions that can lead to "overkill" behaviors.  In other words, the psychotic symptoms and paranoia lead intravenous users of methamphetamine to take actions far in excess of what may be needed under any given circumstance.  For instance, and apropos to the allegations made in the homicide of Barry Van Treese, a person under the influence of methamphetamine, or suffering from the psychotic symptoms caused by long term use, will use a baseball bat and beat a victim to death in a frenzy, even if the intent is just to knock that person out with one blow.
I have reviewed the Affidavit of Richard Barrett.  … [T]o a reasonable degree of medical certainly, an individual who purchases Methamphetamine 3-4 times per week for intravenous drug use is addicted to the drug.  The psychotic effects of the drug on this individual will lasts for weeks or months after the user stops taking the drug.
Methamphetamine addiction is extremely difficult to break.  Those addicted to methamphetamine will place the need for the drug over all other concerns, including family, food, safety, and obedience to the law.
2.    Sneed was treated with lithium in jail which was prescribed for psychosis at the time
Dr. Stewart was advised that Sneed was prescribed lithium upon his arrest.  The full medical records about this are under seal.  However, Dr. Stewart observes:
Lithium was administered in the late 1990's to treat various mood disorders, including symptoms of psychosis.  Given Mr. Sneed's history of long term intravenous drug use, it is possible that the lithium that was prescribed to him was given for the purpose of treating the psychotic symptoms associated with the long-term methamphetamine use as described in the Affidavit of Richard Barrett.  However, in order to reach a conclusion on this issue, I would need to review the medical records from the treating physician at the jail at the time.
____________________________________________________
ESSENTIAL INVESTIGATION REMAINS
In addition to the important evidence of innocence counsel has only recently uncovered, additional investigation is critical, and impediments have stood in the way of much of it.
1.  Sneed has bragged about how he set innocent Mr. Glossip up.  While an inmate who has now been released swears under oath that Sneed so bragged, we have attempted to interview three other inmates who know Sneed and are still incarcerated with him.  These individuals did not want to get involved. They did not deny that what Mr. Scott says is true, but they also would not confirm it out of fear that they would lose their placement at their medium security facility, which is a far better place to do time than other institutions in the Oklahoma Department of Corrections.  This may well be the same reason why Sneed does not wish to come forward and tell the truth.  We need the names and other identifying information for all inmates who have been released or transferred from this prison who were in Sneed's "pod" since he has been imprisoned, and the cooperation of the prison system to locate and interview these individuals.  We also need access to all inmates currently housed near Sneed on the chance that one of them will speak the truth regarding Mr. Sneed.
2.  Sneed's jail medical records upon his arrest are needed to explore and document his mental condition near the time of the offense and his interrogation.  They are presently under seal and we need additional time to obtain them.
3.  We believe police may have found and confiscated needles and drug paraphernalia from Sneed's room at the motel.  We have been unable to document the information and need more time, assistance and access to relevant police reports.
4.  The last time this matter was considered before the Pardon and Parole Board, some polygraph information was discussed that we have determined to be highly suspect. See Report of Charles R. Honts, Ph.D., attached (results had "no value" and "no probative value").   However, we need to obtain the actual polygraph charts for expert evaluation and your Office could assist in that endeavor.
5.  We have learned that jurors may have been swayed by incorrect "evidence" about the timing of the victim's death. Materials from expert medical examiners about this are attached, but additional investigation is necessary.
6.  We have been unable to obtain the court file involving Bobby Glossip's criminal charge of possession of a silver plated .38 caliber firearm, a firearm likely stolen from a motel room or car by Sneed to trade for meth.
7.    A file under seal in federal court reveals details of the psychiatric treatment of Sneed with lithium during his pre-trial incarceration in this case. We need the file to be unsealed.
_____________________________________________________
Granting sixty days to allow continued investigation of this case, and to allow presentation of new and compelling evidence of innocence to the Board, is not only a reasonable and responsible action. It is wise. There have been enough death row exonerations in this country to recognize this case has the hallmarks of a wrongful conviction.  If it does not have those hallmarks in 60 days, then at least the people of Oklahoma will know all was done that could be done.
Since we began investigating this case, and once publicity highlighted it, we have received tip after tip—telephone messages at 1:00 a.m., and emails at all hours.  Such information is still pouring in, but we have not been able to investigate all of it.  Enough of it has proven to be credible that if we do not receive additional time, a tip we have not yet gotten to may later prove innocence, but too late. We respectfully request the opportunity to avoid that tragedy.
Very truly yours,
Donald R. Knight, Esq.
7852 S. Elati Street, Suite 201
Littleton, CO 80120
303-797-1645
Mark Olive, Esq.
320 W. Jefferson Street
Tallahassee, Florida 32301
850-212-7276
Kathleen Lord, Esq.
1544 Race Street
Denver, CO 80206
303-321-7902