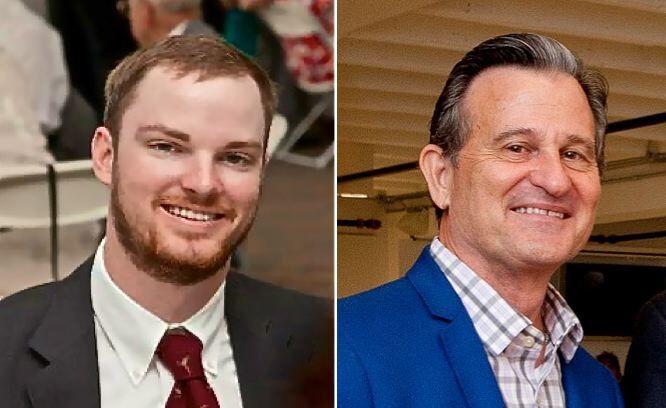 By Darla Shelden
City Sentinel Reporter
Harding Charter Preparatory High School will host its  "Annual Fundraising Reception" on Thursday, October 20, from 7 to 9 p.m. The event will be held at The Hart Building, 726 W. Sheridan Avenue, in downtown Oklahoma City.
Celebrating its 11th year, the reception will have many HCP parents, teachers and alum in attendance. The evening will include a word of welcome from Dr. Mylo Miller, the school principal, hors-d'oeuvres, short speeches, a live string duet, a silent auction and an opportunity to socialize with friends.
The proceeds will go towards a larger scholarship pool, which will be distributed in differing amounts to members of the Class of 2017.
This year's event honors Austin Vernon, Valedictorian of the Class of 2007, and Richard Caram, HCP Founder and Principal, 2003-2007.
Vernon graduated as Valedictorian and Senior Class President at Harding Charter Prep in 2007. He attended Clemson University and graduated with a Bachelors of Science in Chemical Engineering. After returning home to Oklahoma City, Austin works as a petroleum engineer at Blake Production Co., Inc.
"Being the first valedictorian at Harding was, of course, mostly due to chance. It is a lot of luck to be born the right year and be part of a small class where a perfect 4.0 wasn't needed to have the best GPA," Vernon said.
"While our class may not have been the most elite to grace Harding's halls, Mr. Caram and our teachers emphasized over and over that we could make a big impact on the future just by having the opportunity to be first and not to waste that opportunity. It gives us a lot of pride to see that our hard work has been followed by such a successful school and that many traditions we started have been continued."
Caram received his BS in Journalism and Political Science from University of Central Oklahoma in 1973 and his Masters in Secondary Education School Administration from UCO in 1978. After three decades of teaching High School in the Oklahoma City metropolitan area, he founded Harding Charter Preparatory High School in 2003 and served as principal of the school until 2010. He is currently working as an Educational Consultant and Adjunct Professor at the UCO College of Education and Professional Studies.
"As the founding principal, my personal mission and vision for Harding was to create a culture where students experience academic rigor, one that stretched and challenged their learning potential and a culture that unlocked and fostered those hidden skills and abilities that would allow them the opportunity to discover and deliver on their purpose in whatever community they might participate in life," Caram said.
Established in 2003, Harding Charter Prep will be graduating its tenth class in May 2017. It is a free and public high school that was named a National Blue Ribbon School in 2013.
Newsweek ranked Harding Charter Prep #118 in its 2015 list of top 2,300 Best High Schools in America and US News and World Report has ranked HCP #1 in Oklahoma and #89 in America. In 2016, 98 percent of the graduating class went on to attend four-year or two-year colleges, many the first in their families to do so, with the remaining 2 percent entering the military.
"As the mother of a junior at Harding Charter Prep and a 2014 graduate now enjoying her junior year in college, I cannot say enough great things about this school," said event chair, Sara Jane Rose.
"It is a warm, nurturing environment in which students are allowed to reach their full potential. The annual fundraising event gives us the opportunity to raise money for scholarships so these kids can start their college careers with appreciably less stress when it comes to financial need.
"At the low ticket price of $25, this reception is open to anyone who wants to have some fun and benefit Harding Charter Prep students at the same time." Rose added.
Harding Charter Prep, located at 3333 N. Shartel Ave., provides each student with an academically challenging, educational experience through an Advanced Placement curriculum.
Tickets are $25 and sponsorships are available. For further information and to purchase tickets, contact Judy Luster at 405-606-8742 or jluster@hardingcharterprep.org.  To learn more, reach Sara Jane Rose, at 405-326-3611 or sarajanerose@hotmail.com.