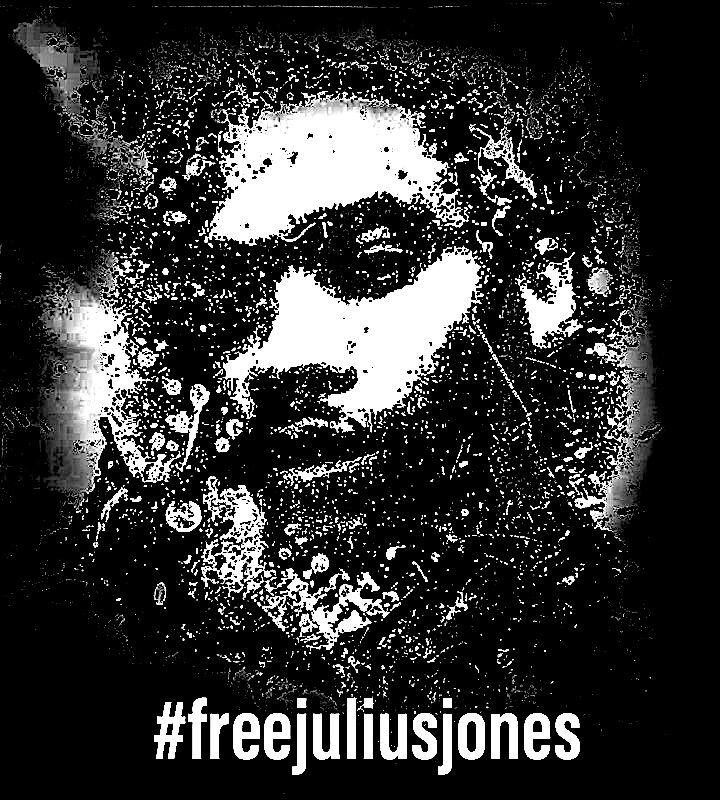 By Darla Shelden
City Sentinel Reporter
Update July 27, 2018:  More Free Julius Jones Rally Speakers Announced
OKLAHOMA CITY, OK – The Oklahoma Coalition to Abolish the Death Penalty and supporters of Oklahoma death row inmate Julius Darius Jones will hold a peaceful and non-violent "Free Julius Jones" rally at 6:30 p.m. on the South Plaza of the Oklahoma State Capitol on Tuesday, July 31. They believe that Jones has been wrongfully convicted of a crime he did not commit.
Speakers will include members of Julius Jones family; Federal Public Defender Dale Baich; Oklahoma death row exoneree Paris Powell; Jimmy Lawson – longtime friend of Julius Jones; Rev. Don Heath, OK-CADP chair; and Anthony R. Douglas, President, Oklahoma State NAACP Chapter & Member of NAACP National Board of Directors.
In 1999, Julius, an African American resident of Oklahoma City, was arrested days after a Caucasian businessman was shot to death in Edmond, OK. At the time of his arrest, Julius was a successful 19-year-old athlete on scholarship at the University of Oklahoma.
Jones, who turned 38 this week, has spent 18 years on Oklahoma's death row.
Recently, the ABC documentary, "The Last Defense," executive produced by Academy Award winning actress Viola Davis, gave the Julius Jones case national attention by spotlighting serious flaws in the American justice system – and in particular the high rate of exonerated death row inmates.
There have been 162 exonerations from death row in the United States – 10 in Oklahoma.
Jones' current attorneys, Federal Public Defenders Dale Baich and Amanda Bass, featured in the docu-series, believe Jones was wrongfully convicted and now have new evidence that they hope will cause the State to grant Jones a new trial.
"The Last Defense explores police and prosecutorial misconduct in the Jones' case, racism in the criminal justice system, as well as during Julius's criminal proceedings," Baich said.
Jones has consistently maintained his innocence.
"Basically, the motive of this rally is to continue the momentum of the exposure of the ABC documentary The Last Defense and to get Julius a new trial and ultimately exonerated," said rally organizer Jimmy Lawson, and longtime close friend to Julius.
Rev. Don Heath, OK-CADP chair, said, "The Last Defense has finally allowed Julius to tell his story and present it to a broad audience, and it is very disturbing. Julius admits that he is not a saint, but he insists that he is not a murderer. He was convicted largely on the testimony of three informants, who were rewarded by having their jail time reduced and their charges dismissed."
The City Sentinel recently broke the news that the Oklahoma Court of Criminal Appeals (OCCA) has decided to take a fresh look at some questions raised by Jones' attorneys earlier this year of racial bias on the Oklahoma County jury that convicted Jones of murder in 1999.
Court documents state, "newly discovered evidence establishes that racial prejudice influenced the decision of at least one juror to convict Mr. Jones and sentence him to death in violation of his rights under the Sixth, Eighth and Fourteenth Amendments."
The judges also concluded (Case #PCD-2017-1313) they could not ignore court mismanagement of exhibits earlier this year.
Baich told Deadline Hollywood: "During our investigation, we learned the juror used the N-word and we asked court of criminal appeals to look at that issue. Initially, it said no on a technicality. We asked the Court to reconsider that decision and it is now looking at the merits of that issue.
"If it finds merit in this issue, the Court could do one of three things — one, it could find that Julius' constitutional rights were violated and he is entitled to a new trial, it could say that an evidentiary hearing is needed or it could dismiss it."
T-shirts with original art by Julius Jones will be available for purchase at the rally.  Attendees are encouraged to bring signs.
Learn more at the Free Julius Jones Rally event page.
The Last Defense episodes examining Jones' case can be watched online. For more information, visit OKCADP.org and JusticeforJulius,com.