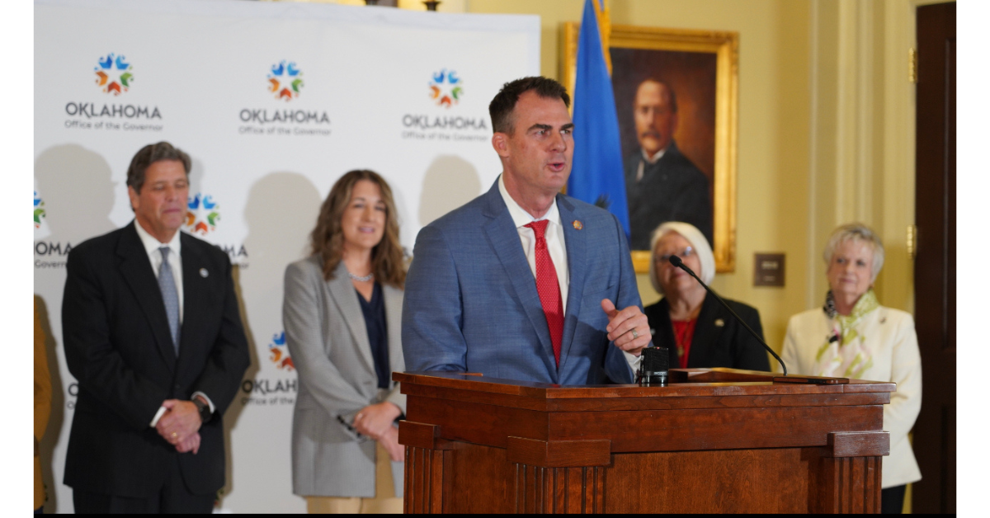 Oklahoma City -- Governor Kevin Stitt this week welcomed the largest economic development project in Oklahoma history, as Enel announced their commitment to invest more than $1 billion in a solar cell and panel factory.
"When I took office, I promised to bring Oklahoma to the world, and the world to Oklahoma; and today's historic announcement is a testament to that mission, our business-friendly environment and 'more of everything' energy approach," said Governor Stitt. 
"Enel's expansion is a huge win for Oklahoma, and I'm thrilled by their record investment in our state's economy and workforce, that will have a lasting legacy and continue to impact Oklahomans for generations."
What a press release described as "Governor Stitt's forward-thinking policies and vision" are creating creating a business environment that encourages companies like Enel to invest in Oklahoma.
The governor's "more of everything" approach to energy and commitment to workforce development contributed, playing a significant role in securing Enel's investment.
A government press release, echoed in news reports, said the announcement marked an historic win for Oklahoma.
(https://www.city-sentinel.com/townnews/motor_vehicle/enel-north-america-to-build-plant-and-invest-1-billion-in-oklahoma/article_65463dca-fa5d-11ed-a207-7370273da023.html )
"We are proud to help usher in a new era of American-made energy and do so with a state that is already a leader in the energy industry. Our selection of Oklahoma is a testament to the strength of the Tulsa Port of Inola site, the state's commitment to workforce development, and an attractive investment climate," said Giovanni Bertolino, head of 3Sun USA.
"With this announcement, we are taking a major step forward in developing a state-of-the-art PV factory, bringing hundreds of jobs and millions in long-term tax revenue, while moving Oklahoma to the forefront of renewables manufacturing."
Enel has been present in Oklahoma for over a decade during which time it has invested 3 billion USD to expand its footprint in the state, which now includes 13 wind farms and a regional office in Oklahoma City to support its growing workforce.
The current leader at the state Department of Commerce said, "This is the largest economic development project in state history, bringing over a billion in investment into our state and hundreds of long-term jobs. It was a group effort to get this over the finish line, and we are thankful for the Governor, the Legislature, the Tulsa Port of Inola Industrial Park, Tulsa Regional Chamber and SelectUSA for coming alongside the Department of Commerce to get this deal done."
Brent Kisling continued, "The success of this project proves what we've known for a long time – Oklahoma can support mega projects, both in terms of sites and workforce, and this gives us exciting momentum as we seek more projects like this one."
The factory, which is expected to have an annual production capacity of 3 gigawatts (GW), represents an initial investment in excess of 1 billion dollars and is anticipated to create around 1,000 new direct permanent jobs by 2025.
Construction is expected to begin in the fall of 2023, subject to final approvals, necessary permits and economic incentive agreements, and it's anticipated that the first panels will be available to the market by the end of 2024.
The project includes the potential for a second phase that would scale the factory to reach 6 GW of annual production, creating an additional 900 new direct jobs.
Senate President Pro Temp Greg Treat, R-Oklahoma City, reflected, "The announcement of Enel's investment is a welcome outcome from our months of discussions with company leadership, legislative negotiations and work with site selectors and developers. I appreciate Enel for recognizing the potential in Oklahoma and choosing to expand their footprint here. I also thank my legislative colleagues for passing legislation this year to allow this expansion to happen. These are good, high paying jobs that will attract people to Oklahoma, in turn helping grow and diversify our economy."
Speaker of the House Charles McCall, R-Atoka, commented, "A project of this scale -- bringing over a billion dollars of investment and millions in economic impact to our state -- proves pro-business policies we have enacted in recent years are working. We have all the right conditions to continue to get projects of this magnitude, and we must continue to press even harder to make Oklahoma the most business-friendly, and family-friendly, state in the nation."