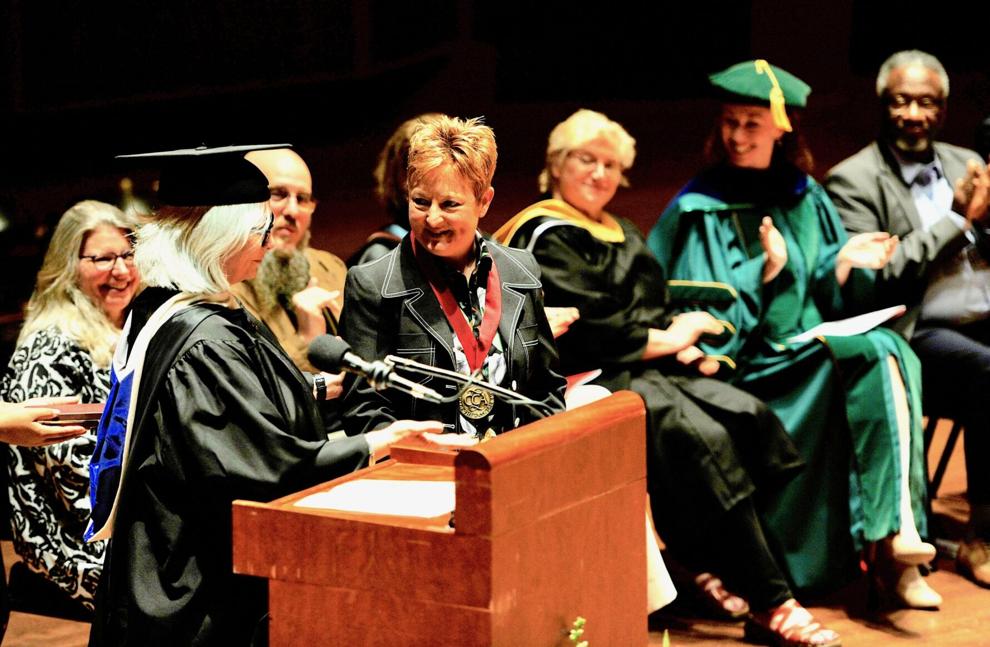 By Darla Shelden
City Sentinel Reporter
OKLAHOMA CITY OK – Amy Wheeler is a nationally recognized playwright, an accomplished actor and a native Oklahoman. This year she received an Honorary Doctorate degree from the Cornish College of the Arts in Seattle, WA during their 2018 commencement ceremony last May.
Wheeler is the executive director of Hedgebrook, the renowned retreat for women writers located on Whidbey Island, northwest of Seattle. Under her leadership, the organization has grown from a small local nonprofit, to become globally recognized for nurturing the careers of some of the most influential writers, poets, playwrights, filmmakers, and songwriters of today.
Hedgebrook's graduates include Gloria Steinem, Eve Ensler, Dorothy Allison, Alice Sebold and Ruth Ozeki.
With Wheeler's guidance, in 2016 Hedgebrook received the Seattle Mayor's Arts Award for Arts and Innovation and an achievement award from Humanitas, a Los Angeles based organization dedicated to empowering writers.
Wheeler's plays, (including Every Atom, A Might Craic, Wizzer Pizzer, Getting Over the Rainbow, Driven, Two Birds & A Stone, and Intersections), have been produced in New York City, San Francisco, Portland, Atlanta, Seattle and Oklahoma City.
Born and raised in Oklahoma, Wheeler holds a BGS from the University of Kansas, and an MFA from the Iowa Playwright's Workshop. She has taught playwrighting at the University of Iowa, Cornish College of the Arts, Freehold Studio Theater Lab, Richard Hugo House and in ACT Theatre's Young Playwrights Program.
During the ceremony, honorary doctorate degrees were also given to actor/writer Stephen Tobolowsky and Spectrum Dance's Artistic Director Donald Byrd.
Past Cornish honorary degree recipients include playwright Tony Kushner; Peter Donnelly (October 6, 1938 – March 28, 2009), president, Corporate Council of the Arts; Virginia Johnson, executive director Dance Theatre of Harlem; Meredith Monk, composer, singer, director and choreographer; Bill Evans, a choreographer, performer, director and educator; Deborah Rutter, president of the Chicago Symphony Orchestra and the Kennedy Center for the Performing Arts; Peter Sellars, artistic director; and Carver Gayton, former executive director, Northwest African American Museum, author and public historian.
After being honored, Wheeler has words of inspiration for the graduating seniors.
"You've been chosen to be an artist in a critical time of transition when the world is on edge and so many things hang in the balance," Wheeler said. "Know, without a doubt – we need your 'voice'… whether it is through words or paint brush, through acting or singing, or playing a musical instrument, or dancing. Your voice is your unique expression to the world and we need to hear from you.
She continued, "It's true that there will be obstacles in your path, and more obstacles for those of us who are women, or gay, or transgender, or non-gender conforming, or persons of color… which means our stories, your stories, are needed even more urgently. The powers that be have so much to learn from those of us who live and create at the edges.
"And because the future is female, and by that I do not mean gender, I mean the construct, I mean patriarchy – we need new structures and new ways of being," Wheeler stated. "Artists are the eons, the first ones, to break down the walls, to bust through the glass ceiling.
"Believe in your talent and hone your craft," she added. "The skills you have learned from this extraordinary faculty, who you so clearly love, will serve you throughout your life.
"Surround yourself with people who encourage you and push you to cultivate your voice. Your family of origin or your chosen family and your friends are your bravest allies on your journey.
"Celebrate this milestone, my friends, then roll up your sleeves," she implored.  "Your great work is just beginning."
In an earlier interview with The City Sentinel, Wheeler said, "My parents and lifelong Oklahomans, Jim and Jo Wheeler, instilled in me the passion to tell stories. From their backgrounds in theology and theatre, they've encouraged me to delve into the deeper meanings of what's happening in the world, to excavate the story underneath the story, the emotional truth, until I find the moral center."
On the Hedgebrook website Wheeler states, "We've been doing this work for 30 years, and now that we're a leading advocate nationally for gender parity and racial equity — the cultural conversation is finally catching up with us."
For more information about Cornish College of the Arts, visit cornish.edu.