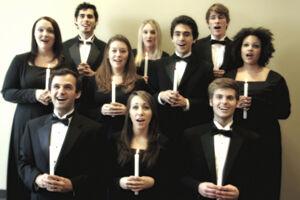 by Patrick B. McGuigan
Associate Publisher
The annual Vespers program at Oklahoma City University is a spiritual and sensory feast, culminating in the ever-stirring "Night of Silence," with the soaring voices of male and female singers describing the cold "winter of life" as fallen humanity trembles to bear up "in shadows this cold endless night"
As the lovely modern hymn captures the mood of longing for personal salvation and meaning in life, the singers wrap 'round the audience, candles alight and faces illumined as the stage and chapel lights fade into darkness.
Then, the reverence and hope of Christmas emerges when the "night of silence" becomes the beloved "Silent Night" – the most cherished carol of all.
There is magic in the air as OCU's massed choirs and musicians bring prayerful music to vibrant life in an eclectic and ultimately fulfilling service in the campus worship space at the Methodist-affiliated institution that bears the name of our town.
All choirs begin the 90-minute journey with a rousing interpretation of C. Hubert Parry's "I was glad when they said unto me" – a traditional rpayer for "the peace of Jerusalem." That segues beautifully, after a prayer, into a modern Canadian humn, the haunting "Huron Carol" in which the native "sons of Manitou" – in the assembled male voices of the University, hail the arrival of One born to save the "children of the forest free."
Classical Latin hymns and modern settings for the great common language are delivered with, "O Magnum Mysterium" (O Great Mystery), the stirring four voices that begin the "Gaudete!" (Rejoice) – a tuneful harmony with only percussion instruments for acccompaniment – through Ola Gjeilo's "Gloria, and a handful of variations on "Hodie" (Today).
Angelic are the voices who tell us of "some children" who see the mystery of God Incarnate – a man like us in varied hues: white, brown, yellow and dark. The women sing Mary's tender lullaby to the sleeping Jesus (Ralph Vaughan Williams motherly love song), then join the men against for a Spanish carol thanking God for protecing "our Lady" from the ravages of beasts.
Acapela prelude to the closing prayer and songs is Herbert Howells' lovely "spotless rose" – the story of a root springing from Mary, that one "purest Maid."
In addition to moments of corporate prayer, attendees are able to join the mass of musicians for "Hark the Herald Angels Sing!" and "O Come All Ye Faithful."
The 2012 program "Rejoice and Sing Noel" involves more than 250 choral and orchestral musicians from the University Singers, Ad Astra Women's Chorus, the University's Men's Chorus and the Chamber Choir. Benjamin Nilles conducts the University Symphony Orchestra. Joining the student performers are the Bass School of Music Flue Quartet with Valerie Goforth, Caleb Mitchum, Mallory Phillips and Kristen Swartley, and flute profesor Parthena Owens.
Featured organist is Melissa Plamann, with student organist Benji Stegner; while group direction is provided by Randi Von Ellefson and Judith Willoughby. Scripture readers and narrative come from Danne Johnson, a professor of law.
Vespers was held last night and continues today (Saturday, December 8) at 4 p.m. and at 8 pm. – at the Bishop W. Angie Smith Chapel on campus.
Tickets are $12. Go early: Friday evening's presentation sold out.